Teen murder a drug hit?Suspect in Ogden girls death is valley native and martial arts instructor
Jason Bergreen Oct 16, 2002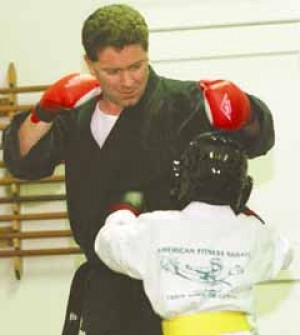 Mark Jensen of Hyrum believed that the 17-year-old Ogden girl he is accused of shooting to death was an undercover narcotics informant, court documents reveal.
Ironically, Jensen had participated in a local martial arts tournament three-and-a-half years ago to fight drug abuse in Cache Valley. He was a well-known tae kwon do instructor in Logan who worked regularly with young people.
Jensen, 39, was arrested and is being held in jail without bail as a suspect in the shooting death of 17-year-old Jammie Richards of Ogden. Richards body was found about 3 p.m. on Oct. 10 near an LDS church parking lot just west of Fielding. Investigators believe Richards body had been lying near the church parking lot for several hours before being discovered by a group of Cub Scouts. An autopsy revealed Richards died of a single gunshot wound from a .38- or .380-caliber or 9mm bullet.
Box Elder and Cache County sheriffs investigators arrested Jensen in Hyrum near his home Sunday night. He was arrested on suspicion of first-degree felony aggravated murder. He is being held in the Box Elder County Jail.
Between 2 and 3 a.m. on Oct. 11, Jensen allegedly told an acquaintance that Richards was a narc and that she had sold drugs to him while wearing a wiretap, court documents stated. During the same conversation, Jensen told the acquaintance that he had done him a favor and needed to get rid of a gun.
The (acquaintance) wanted the gun because he didnt believe Mark was telling the truth about the murder so Mark gave him the gun, an investigators report released Tuesday by the Box Elder County Attorneys Office stated.
Just prior to the conversation with the acquaintance, Jensen ordered a third person to go to a carwash and clean his truck, the report stated.
The acquaintance was subsequently arrested later the same day by Cache County sheriffs deputies on unrelated gun and drug charges.
A .38-caliber handgun, which the acquaintance said was given to him by Jensen, was found in his car trunk.
Richards was last seen Oct. 7 by a woman she was staying with in Ogden, court documents also stated. The woman told detectives that Jensen told Richards he was her father because he had an affair with her mother years ago and that she could be his daughter.
The woman also told detectives that Richards said she was scared of Jensen.
On Tuesday, 1st District Court Judge Ben Hadfield set an arraignment hearing in Jensens murder case for Oct. 28. The Box Elder County Attorneys Office is expected to file formal charges against Jensen soon.
Since 1993, Jensen has been convicted on misdemeanor charges of assault, driving under the influence and a probation violation in Box Elder and Cache counties. Jensen also served a 13-month prison term in Wyoming State Penitentiary for property crimes.
Formal criminal charges were filed against Jensen by the Cache County Attorneys Office in 1988 on suspicion of felony rape and burglary. A jury acquitted Jensen of both charges in 1989.
Jensen was also known in Cache Valley as a martial arts instructor. He was featured in a February 1999 Herald Journal article as a participant in the Kick Drugs out of Cache Valley martial arts tournament a fund-raiser for drug awareness programs.
Many people, especially here in Cache Valley, dont even admit there is a drug problem. It is a sheltered community, Jensen said in the February 1999 article. And most people think Oh, we dont have those kinds of things around here. Which is a big mistake.
Local karate expert Gary Connors said he remembers running into Jensen at the annual tournament some time ago.
It (his arrest) didnt really come to me as a surprise, Connors said. I mean, that (murder charge) came to me as a surprise in the sense of the seriousness of that whole thing. Mark apparently had had some problems with the law.
Connors said he never knew Jensen to be obnoxious and he never had any problems dealing with him on the limited basis that he knew him. Connors said he was disappointed with Jensen and the allegations hes facing because of the negative light it shines on the martial arts community.
Wow, if this is true, Im sorry for him, Connors said, sighing. Whew, murder.