Wall of shame
By Derek Ciapala, Tuesday, Jul 12, 2011
The charges levied against Rogers include third degree assault, domestic assault by strangulation and pattern of stalking. All of the charges against Rogers are listed as felonies.
UFC president Dana White confirmed on Thursday that Rogers has been released from Strikeforce, and even though the former heavyweight contender is innocent until proven guilty in court, I completely agree with the decision. Continue reading →
By Vorhis & Doan, March 14, 2013.
Drug charges often bring many challenges for Florida residents, but they can provide even more complications for those who are in the public eye. A well-known Bellator mixed martial artist, Daniel Straus, was recently accused of traffic and drug charges after being arrested in Fort Lauderdale, Florida. At last report, he was being held in North Broward jail pending a bail in the amount of $2,200. Continue reading →
The fighter known as "Mayhem" faces criminal charges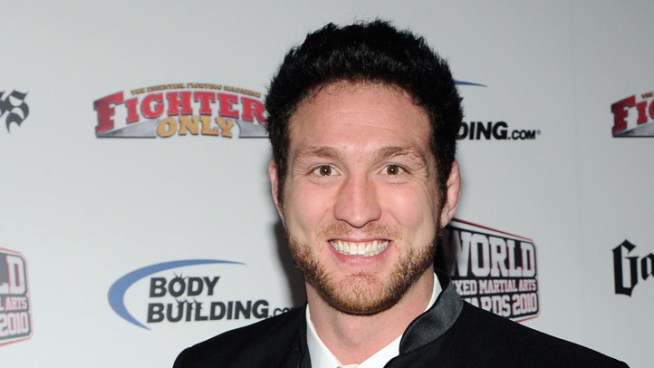 Getty
Mixed martial artist Jason 'Mayhem' Miller arrives at the third annual Fighters Only World Mixed Martial Arts Awards 2010 at the Palms Casino Resort December 1, 2010. Continue reading →
By Mike Chiappetta on Nov 18 2009,
David Allen Tyner, a 28-year-old former Marine who fought seven times professionally as a mixed martial artist, has surrendered himself to police in Oklahoma City, Okla., in connection with a multiple homicide on Nov. 9.
Oklahoma City police had issued a warrant for his arrest on Monday related to six murder complaints. According to the warrant obtained by FanHouse, fire investigators arrived to the grisly scene on Nov. 9 after being notified of a house fire. Upon arrival, fire personnel quickly encountered one deceased person. Upon extinguishing the fire, the other victims were discovered. Continue reading →
By TRACY HARMON , Fri Mar 2, 2012.    
CANON CITY — A 22-year-old mixed martial arts fighter surrendered to authorities Sunday after he allegedly assaulted a fellow bar patron early Thursday.
 Michael (Mickey) Lee Koonce Jr. of Canon City is being investigated for first-degree assault in the incident, which left a 52-year-old Canon City man unconscious in a Colorado Springs hospital. The victim had bleeding and swelling of the brain and remained unresponsive in the Penrose Hospital Neuro Intensive Care Unit, according to an arrest warrant affidavit.
Continue reading
by Rajiv Dhoot, 09/07/2012
London, Sept 7: Alex Reid won't be facing charges after he was arrested on suspicion of causing criminal damage and using violence to enter the Essex house he shares with Chantelle Houghton, in the early hours of the morning.
The mixed martial artist decided to release a statement to tell fans that the police decided to let him go scot free. Continue reading →
By Olga Espina, June 16, 2011
VAN NUYS (KTLA) — A Van Nuys martial arts trainer was arrested Thursday after authorities claimed he kidnapped and molested several minors while impersonating an officer. Continue reading →
By Rachel Quigley, 7 September 2012
A mixed-martial artist accused of ripping out his friend's heart, removing his tongue and skinning his face while the two were on hallucinogenic drugs has pleaded guilty to murder and mayhem charges. Continue reading →
By Rakhi Kaptiyal, Feb 18,2009
California mixed martial arts (MMA) fighter Kimo Leopoldo was arrested on suspicion of possessing methamphetamine and a stolen police uniform, authorities said.
Tustin, Calif., Police Sgt. Jeff Blair alleged the 6-foot-3, 235-pound Leopoldo was spotted by officers in a shopping mall parking Monday lot wearing a jumpsuit of the kind used by the Long Beach, Calif., police department's special enforcement teams, the Orange County Register reported. Continue reading →